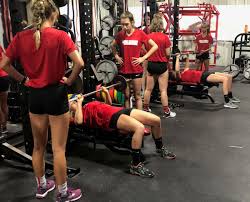 Registration for the 2022 Summer APT program will be available soon.
Championships Are Won in the Offseason!
The importance of out-of-season Athletic Performance Training cannot be overstated. Whether you compete in a team sport or an individual sport, success begins with being physically and mentally prepared to compete. SCHS is blessed with outstanding, passionate coaches who effectively teach the Xs and Os of the sports they coach. But the success of our teams requires execution of those game plans by athletes who are strong, explosive, agile, conditioned and healthy. Championships really are won in the offseason! Our teams are looking for you to commit yourself to work harder than your opponents when nobody's watching so you can reach your full potential and celebrate as a champion!
APT Is More Than 'Weightlifting'
Our program will do much more than simply make you stronger. The benefits of committing yourself to the Athletic Performance Training program include:
It increases athletes' strength, speed, flexibility, agility, balance, endurance, reaction speed, range of motion, and explosiveness.

It identifies weaknesses and potential risk factors that could lead to injury.

It prepares athletes for sport-specific training that will improve their athletic performance while also identifying and combating inherent risks associated with their sports.

It keeps players on the field or court, allowing for greater individual and team success through a season.

It builds communication between strength staff, head coaches, athletic trainers, and student-athletes.

It builds a foundation of trust between athletes and coaches.

It prepares the body for essential sports movements, including basic sport skills like tackling, boxing out, or jumping.

It increases athletes' self-confidence and helps them play fast.

It builds team camaraderie and cohesiveness.

It prepares athletes for the expectations that will be placed on them if they intend to play beyond high school.

It teaches basic movements that can translate to a lifelong practice of exercise after their athletic careers are over. This provides an outlet for maintaining a healthy lifestyle after high school.

It allows athletes to set and work toward objective, realistic, attainable goals that are within their control. This skill is essential for success in life.
2022 SUMMER APT DETAILS coming soon
2021 SUMMER APT REGISTRATION
Available early spring. Register by April 15, 2022