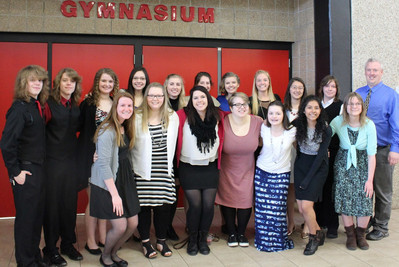 Thanks for visiting our Shawano Hawks Forensics page!
Forensics is a competitive speech event. Students can pick from a variety of categories to enter and focus on informative speaking, current events, persuasive speaking, or dramatic interpretations of literature. There are events for individuals as well as groups. Some of the popular categories include: Play Acting, Moments in History, Storytelling, Poetry, Prose and Group Interpretive Reading. The high school-level team travels to festivals; including conference, sub-district, district and state.
Students can receive awards in their category. Participants are asked to meet with a coach weekly to practice their delivery and attend all scheduled events. Forensics provides students with valuable life skills, improved public speaking, acting opportunities, team building, and lots of fun!
If you're interested in being part of the 2020-2021 team and have a potential category selected, your next task will be to find several pieces that will work for your category. If you're new to forensics, any of the coaches listed below can help guide you on selecting items that will work for your category. At the high school, we also have an information board located in the English Pod - watch for meeting announcements and updates.
The high school team typically has a general meeting in October to kick off the season, with four "meets" scheduled February through April. High school coaches include Ms. Martin, Mrs. Kann, Mr. Konen, and Mr. Falk.
Our REMIND page access is below, and our season calendar is shown below that - more details will be added as they become available.
To join our Google Classroom, please click HERE
To access our information sheet for the high school-level group, click HERE
The WHSFA speech handbook, which will feature information on all the speech categories, can be found HERE
If you have any questions, please contact Shawano Community High School forensics coach Nathan Falk at falkn@shawanoschools.com

Upcoming Events
Our fall SCHS Forensics Meeting is not currently scheduled. It is typically in late October/early November. If you're interested in being scheduled for this meeting during your Enhancement time, please e-mail Mr. Falk at falkn@shawanoschools.com
If you have a smartphone, get push notifications with REMIND. On your iPhone or Android phone, open your web browser and go to the following link: rmd.at/shawano4n6 Follow the instructions to sign up for Remind. You'll be prompted to download the mobile app.

If you don't have a smartphone, get text notifications. Text the message @shawano4n6 to the number 81010. If you're having trouble with 81010, try texting @shawano4n6 to (715) 403-5712.
* Standard text message rates apply.

Don't have a mobile phone? Go to rmd.at/shawano4n6 on a desktop computer to sign up for email notifications, or click the JOIN CLASS link on this page.