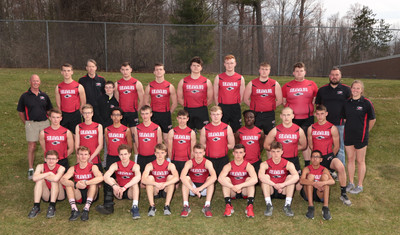 2018-2019 Boys Track Team
2020 TracImagek and Field
First practice is Monday, March 9th in the SCHS gymnasium (3:50pm)!
Picture Day is April 1st at 5:15pm
WIAA STATE TRACK 2019 Participants
TORI DE PERRY TIED FOR 15TH
MICHAEL KLEMENT
Head Coach: Erin Cornelius- LJ, TJ, Hurdles
Assistant Coach: Tom Egan - PV, Sprint Relays, Sprints
Assistant Coach: Jamie Clark - Throws
Assistant Coach: Luke Wojta- Sprints, Sprint Relays, HJ
Assistant Coach: Dr. Joe Guenther - Distance, Distance Relays
Volunteers: Dave Hanssen- High Jump and Jim Heinz-Throws
Attention Student-Athletes!
Each student-athlete and parent/guardian are required to watch the eligibility video and sign all required forms in order to participate in Shawano Athletics for the 2019-20 school year.
Each program will host Parent meetings to address sport specific policies and expectations. All required forms must be on file and verified in the High School office before beginning practice!
Forms and the video link may be found here.
**The 2020 Parent Meeting will be on Wednesday, March 11th at 5:30 PM in the High School LGI.
** The 2020 Senior Night will be at the Shawano Jozwiak Invite on May 12th at the middle school track.
Meet And Practice Schedules