The Shawano School District is dedicated to its vision of preparing all students with the skills and knowledge to achieve excellence. The Department of Instructional Technology is committed to supporting the district's vision through its efforts to provide students with reliable access to technology and instructors who are trained in best practices of technology integration to ensure a learning environment focused on experiences that prepare students to be leaders.
The Department of Technology has two main teams whose efforts support the work to create future ready students. The Technology Services Team is responsible for providing access to reliable technology services as well as envisioning the technology needs of the future.
The Instructional Technology Team is responsible for the integration of technology resources into the classroom environment through professional learning for staff that supports continual growth of instructional practices focused on student learning and best practices. These practices focus on the learner's ability to work independently or collaboratively, through the use of tools, or resources to access and evaluate information to solve problems, make decisions, communicate clearly, with the goal of constructing new knowledge or products of learning.

The Instructional Technology Team consists of our technicians, and technology support staff. Their work supports the instructional efforts of teachers and students as well as maintaining the equipment and infrastructure to support all staff's technology needs.

Shawano School District has a wide range of resources available to staff and students to support learning. The Department of Instructional Technology has created a website that contains resources available to students, tutorials to assist staff in using and accessing resources, and information to keep staff and students safe in an online environment.
To access the resources and information, click here.
Technology Support
Technology Help
Contact your child's classroom teacher via their school phone number or email address, for issues with how to access or use a resource.

If the issue is a Damaged or Broken Device that needs repair -

Contact your child's classroom teacher who will complete a Fresh Desk Ticket.

The Technology staff will then work with you to schedule a time to meet you at the District Office to exchange your device.

Staff will be available if you have questions.

Internet Access
Some internet carriers are offering free and/or low-cost options that your family may be able to use.

See DPI list of internet offers for families with maps showing coverage areas.

Spectrum is offering free broadband internet and WiFi access for 60 days to families with K-12 and college students. Charter, which operates Spectrum internet, said they will also waive installation fees for new households. Learn more about the Spectrum offer here or call 844-488-8395.
The Department of Technology is working hard to provide technology resources, equipment and support as we begin the new year. We recognize that there are issues that will arise that we will need to address to help teachers and students use the technology successfully. To that end, we have created a FAQ Frequently Asked Questions document that we will continue to update to help you find answers and support.
If you are having issues at home, please look at the FAQ document to see if that provides a resolution to your issue or question. If not, please contact your teacher who can help direct you to the student help desk ticket form or they will contact a member of the technology team. If you are at school, let your teacher know and they can direct you technology support in the building.
Home printing from a Chromebook.
We recognize the desire to be able to support learning at home by being able to print from student Chrombeooks. At this time we are recommending the use of a USB cable connection to the printer. You can use a USB cable to connect your printer to your Chromebook. When you use a cable, you'll see a notification. Follow any onscreen instructions. Your printer won't need to be connected to Wi-Fi if it is directly connected to your Chromebook.
We are not currently supporting wireless printing as the set up process varies between printer models.
Free Public WiFi Access Map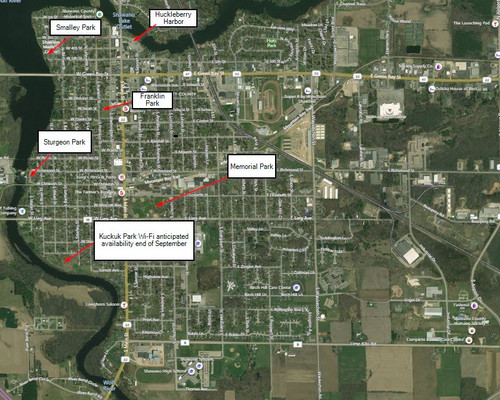 Technology Support
TEACHER HELP DESK
Fresh Desk

STUDENT HELP
Contact Teacher to inform them of issue and your teacher will complete a Fresh Desk Ticket.
Access Resources
Learning Resources