SCMS INFORMATION
Location
1050 South Union St
Shawano WI, 54166
Student Hours
Start time is 8:00AM. Doors unlock at 7:45AM.
Breakfast starts at 7:45AM
Students should report directly to the gym if they are not having breakfast.
Dismissal is at 3:30PM
Click here to view Daily Bell Schedules 2022-23

Office/Attendance Line
Office: (715) 526-2192
Attendance: (715) 526-2192
Please call SCMS if your child is going to be absent. The attendance line can be reached by calling 715-526-2192 then pressing the # key. If your child is absent, please call before 9:00AM
Fax:

Lunch Account Information
Lunch money may be added to your child's account at any time. Deposits may be turned in to the Visitor Center by filling out envelopes that are available in the Visitor Center. Payments may also be made online through Skyward Family access.
PTO
We have an active PTO that would love your help! Please contact a PTO member or the office to see how you can join or help.
We hope you enjoy your time as a Shawano Community Middle School Hawk!
It's a Great Day to be a Hawk!
Facilites Rental
SSD offers opportunities for the community to use our facilities. Please visit the SSD Facilities page for updates regarding facility rental opportunities for outside groups.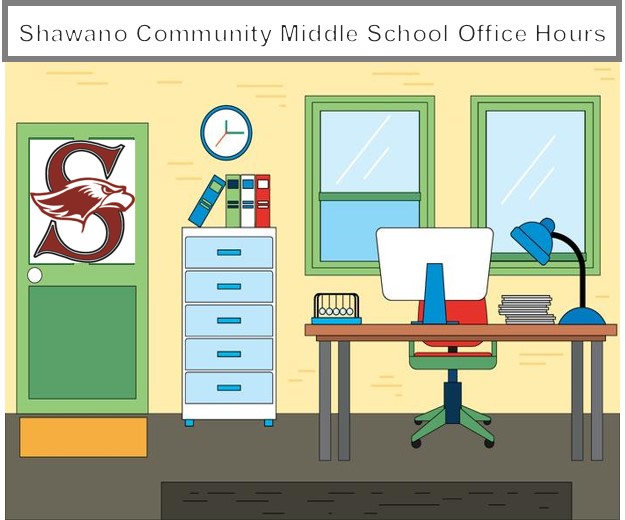 Office Hours
STUDENT DAYS
7:30AM - 4:00PM
NON STUDENT DAYS
7:00AM - 3:30PM
To view contact information for each of our staff members, please visit the SSD Staff Directory
We want our families and community members to know that we are listening! Clear communication is important, so we want to give you an opportunity to help us continue to build upon SSD's tradition of excellence.