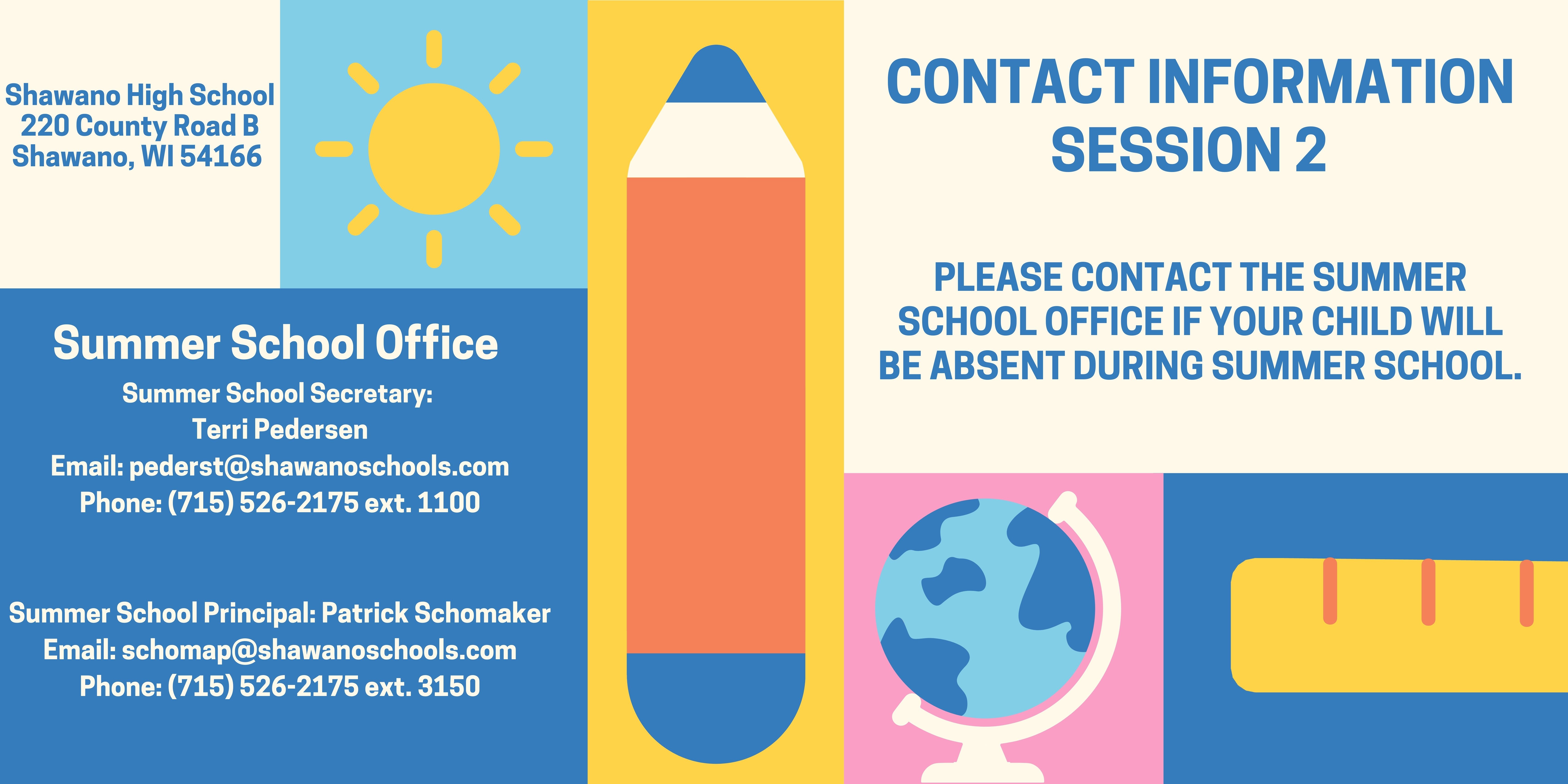 Purpose Statement: The outbreak of COVID-19 and resulting disruption to the traditional school calendar resulted in many lost learning opportunities. Students gained deficits in many areas as we worked in a virtual or hybrid environment. Although we know that students are resilient, we do have an opportunity to make up some of those gaps with this special session of summer school. All students who live in the Shawano School District or who are currently open-enrolled in Shawano schools are welcome to attend this session, which will take place at Shawano High School.
Summer School Session 2 Dates: Monday - Thursday: August 2-19
Grades Pre-4K-8th
Daily Schedule:
9:30-11:00- Class
11:00-11:30- Lunch
11:30-12:00- Social-Emotional Learning
12:00-1:00- Fun in the Sun
Summer School Session 2 Catalog
(Please see catalog for course descriptions and other important information for session two!)
Please contact Tom Dechant: dechant@shawanoschools.com to register for Summer School Session 2.

Learning does not end when school lets out. Neither does the need for good nutrition- which is crucial for children to have healthy and productive summers. The summer food program provides and opportunity to continue a child's physical and social development while providing nutritious meals.
Who is ELIGIBLE?
All children 18 years of age and under are eligible to receive FREE meals. No need to sign up or apply for the program- just come and enjoy tasty and nutritious meals.

Summer School Coordinator: Tom Dechant
Email: dechant@shawanoschools.com

Contact Tom Dechant for Summer School questions and employment opportunities.
High School Recovery Credits: Jessie Hanssen
Email: hanssej@shawanoschools.com

Phone: (715) 526-2175 ext. 8102
Summer School Principal (Grades 3-8): Patrick Schomaker
Email: schomap@shawanoschools.com
Summer School Principal (Grades 4K-2): Brian Morstad
Email: morstab@shawanoschools.com
Summer School Administrative Assistant: Liz Schultz
Email: schultze@shawanoschools.com

Contact Liz Schultz for Summer School questions about course catalogs or course registration.