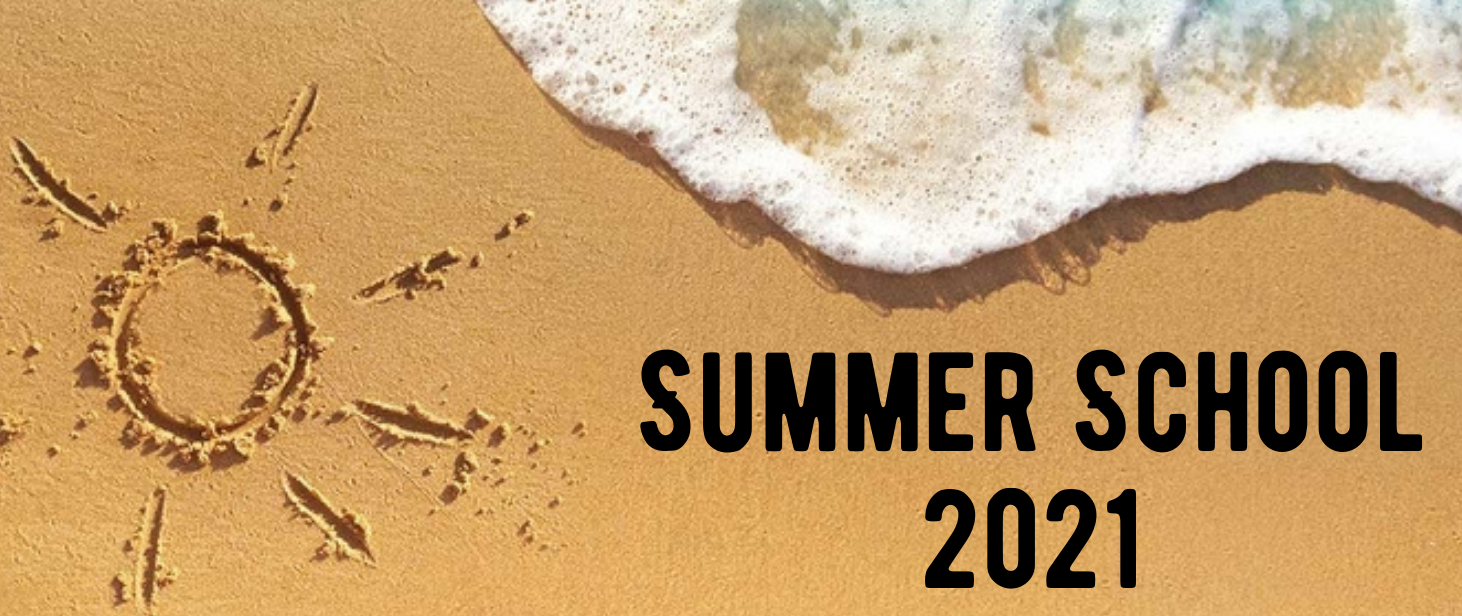 Summer School Session 1: Dates:
Monday, June 14 - Thursday, July 15
(Monday - Thursday: 8:00 a.m. - 1:00 p.m.)
Grades Pre-4K-2nd: Hillcrest Primary School
Grades 3-8: Shawano High School
Attendance Contact Information:
Please contact the Summer School office if your child will be absent during summer school.
Hillcrest Secretary: Terri Pedersen
Email: pederst@shawanoschools.com
Middle School Secretary: Christine Fellman
Email: fellmac@shawanoschools.com
Welcome Letters:
Maps: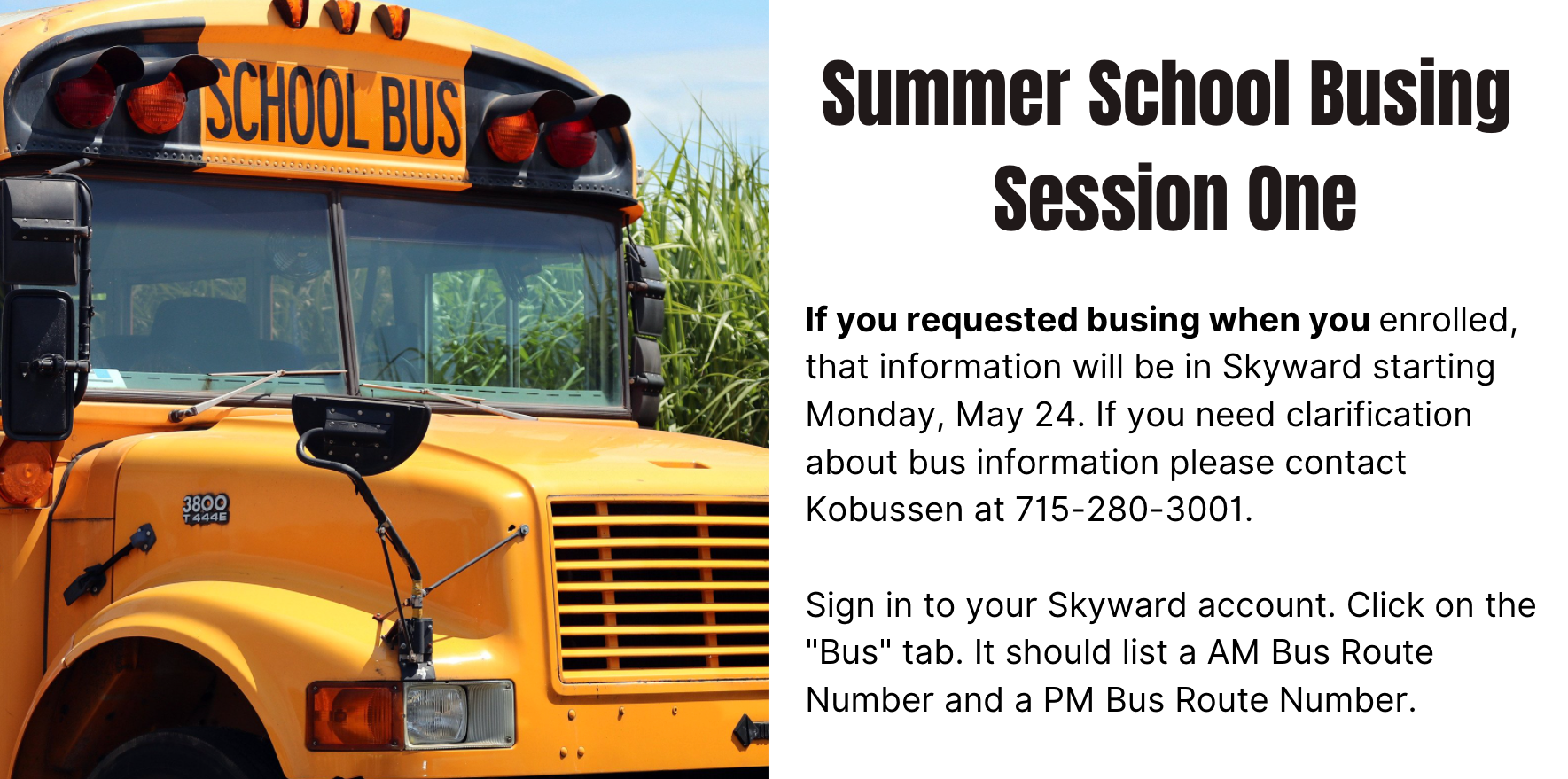 Purpose Statement: The outbreak of COVID-19 and resulting disruption to the traditional school calendar resulted in many lost learning opportunities. Students gained deficits in many areas as we worked in a virtual or hybrid environment. Although we know that students are resilient, we do have an opportunity to make up some of those gaps with this special session of summer school. All students who live in the Shawano School District or who are currently open-enrolled in Shawano schools are welcome to attend this session, which will take place at Shawano High School.
Summer School Session 2 Dates: Monday - Thursday: August 2-19
Grades Pre-4K-8th
Daily Schedule:
9:30-11:00- Class
11:00-11:30- Lunch
11:30-12:00- Social-Emotional Learning
12:00-1:00- Fun in the Sun
ONLINE registration is available May 21- May 28.
Summer School Session 2 Catalog
(Please see catalog for course descriptions and other important information for session two!)
Summer School Registration for Session 2 (August 2-19) IS CLOSED!
Please contact Dr. Watson watsonr@shawanoschools.com to register for Summer School Session 2.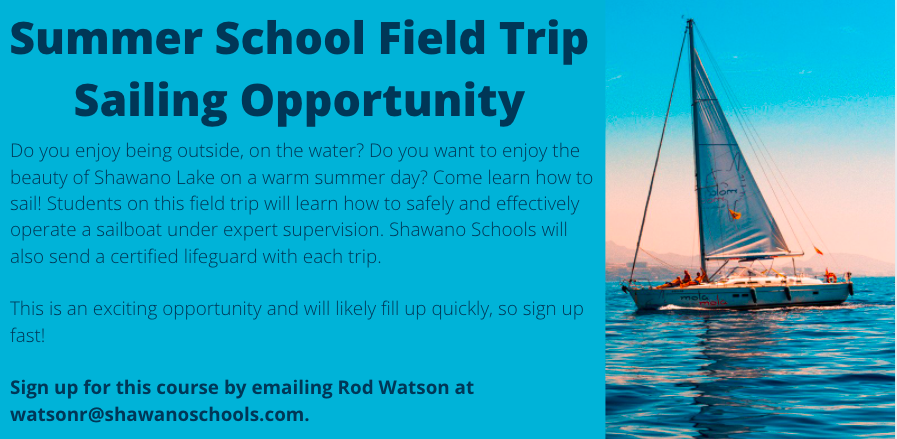 Sailing Course Dates:
Friday, June 18: 9:00 a.m. - 12:30 p.m.

Friday, June 25: 9:00 a.m. - 12:30 p.m.

Friday, July 2: 9:00 a.m. - 12:30 p.m.

Friday, July 16: 9:00 a.m. - 12:30 p.m.
This Sailing Field Trip Opportunity is available for students in Grades 3-8. Students will meet at Shawano High School at 9:00 a.m. Students will take a bus from Shawano High School to Shawano Lake. Students will need to be picked up from Shawano High School at 12:30 p.m.
Please contact Patrick Schomaker (Email: schomap@shawanoschools.com) with any questions about this opportunity!